Railings
Currently, the most widely used project is a model STC-001 with the following specifications:
- bars - round pipe, fi diameter 48.8/2mm
- handrail - round pipe, fi diameter 48.8/2 mm
- a constriction - bar full, fi 12mm
- filling - 5 pcs. transversal bars full fi 12mm
- clamping sleeve with milled edge
- masking rosette fi 68mm, milled after the perimeter angle of 45 degrees


Applications: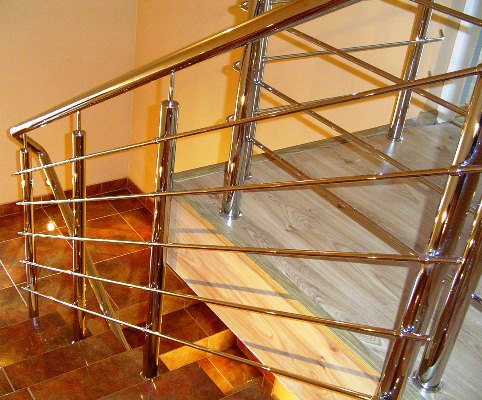 Internal and external stainless steel railings are used very widely in all types of public buildings. An important feature of our devices is that they are not twisted in a modular fashion and welded entirely on site. That is why our stainless steel railings guarantee the highest safety in use for many years. There is no risk of twist or loosen any part of the railing.


Excellent quality steel railing gives an impressive appearance. We recommend exterior and interior railings, combining with modern decor as terracotta, wood or natural stone. We also recommend this product for multi-family residential buildings.

Our steel railings have a matte finish (STC-001-M), polished (STC-001) or satin (STC-001-GR1 or STC-001-GR2) and welded joints are completely invisible.



We invite you to submit queries:

We offer a free pricing and advice. The price of our services includes installation. Welded (not bolted modular models) have no visible joints through careful and thorough process of polishing or satin. We encourage you to contact us. We will be happy to quote your individual project.
We take into account the individual needs of each client, so if you have not found a specific pattern in our offer, please contact us.